Join a team that values your values
To unlock our customers' potential, we first have to unlock our employees' potential. So, we view our career opportunities as life opportunities that let you join a team that values what you value!
Our Core Values
Our core values were chosen by our employees and reflect who we are. They guide how we work with each other to serve our customers and our communities. Our core values were voted on by our employees so they're more than just words on a page. They guide how our employees live and work every day to serve our customers, our communities, and one another.
Respect Everyone.
Customers. Coworkers. You. All deserve the same respect.
Pursue Growth & Learning.
Learning something new every day is part of our day-to-day.
Work as a Team.
We're the team that makes dreams come true.
Act with Integrity.
Honesty. We do the right thing even when no one is watching.
Listen with an Open Mind.
Open ears lead to an open mind.
Take Ownership. Be Accountable.
Accountability and responsibility go hand-in-hand.
Exceed Customer Expectations.
The first step in great customer service is thinking one step ahead.
Embrace Change as Opportunity.
When you embrace change, you create the future.
Exhibit Pride in Your Workplace.
Pride and dedication are how we show we care.
Foster Positive Energy.
Positive energy creates positive results.
Laugh Often. Have Fun!
Banking without humor will make you lose interest.
We're the team that makes dreams come true.
Employee Appreciation Week Celebration
Abington Bank Spirit Day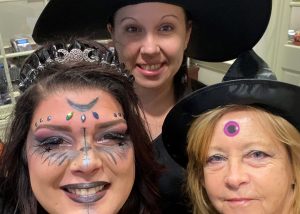 Halloween Dress-up Day
Ugly Sweater Day
Luau Day
Pajama Day
For HFG customers to unlock their potential,
the potential of HFG employees must first be unlocked.
Benefits
Tuition reimbursement, flexible schedules, and high-quality training are just the start of how we can help you not just fit in but stand out.
Medical, dental, and vision insurance upon hire
401(k) plan with company match and discretionary contribution
Health Savings Account (HSA) with company contribution or Health Reimbursement Account (HRA) available with eligible health plans
Flexible Spending Account (FSA) including Dependent Care and Limited Purpose FSA
11 paid holidays
Generous paid time off (PTO)
Company-provided group life insurance
Supplemental insurance
Participation in the state's Paid Family and Medical Leave (PFML) program
Long-term disability insurance
Tuition reimbursement
Employee Assistance Program (EAP)
Wellness programs
Fitness, weight loss, mind-body program reimbursements
Employee referral bonus program
Remote work arrangements for applicable positions

Recognition and awards
Our parent company is a national Top Workplaces winner based on feedback from our employees!
79%
EMPLOYEES WHO ARE FEMALE
74%
BANK OFFICERS WHO ARE FEMALE
37%
HAVE WORKED HERE FOR MORE THAN 10 YEARS
8
AVERAGE YEARS OF EXPERIENCE
Work where work/life balance meets account balances.
See our available positions.
Equal Opportunity Employer. Veterans, individuals with disabilities, and female and minority candidates are encouraged to apply.